With the release of the Great Gatsby movie, which I recently

reviewed

for you, there has been an influx of 1920s style - everything from fashion to home decor. Here is a modern day example of whats available, fashion wise, with a very 1920s feel.
The links to these items can be found on my
Polyvore
There are some really amazing items in this collection and I could totally see myself sporting any number of them, but what I wanted to focus on today is art deco home decor.
The mood during the early 20th century was optimistic and hopeful, and like society's attitude, their interiors were sparkling and bright. There were sleek, glossy hardwood floors laid in geometric patterns. The gleaming furniture consisted of mirrored dressers, black lacquered cabinets and ebony veneered tables, chrome lamps and sparkling chandeliers. Area rugs and other fabric items were bright and colorful - consisting of zigzags, chevrons and sunbursts. Sweeping, curved lines and angular shapes were a common sight and brushed steel finishes and glass were used liberally as they contributed to the sleek, modern look.
Here are some great modern day examples as showcased on

Houzz

.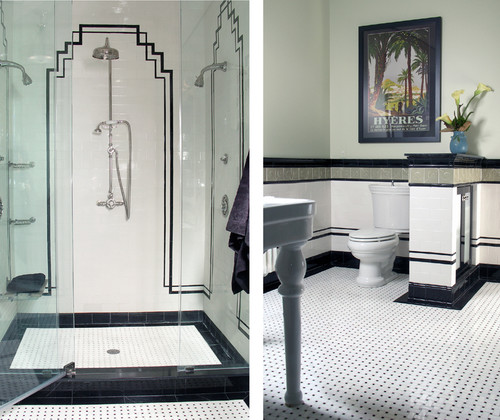 Art deco style was modern for it's time, and it still has a very fresh, eclectic, contemporary feel today. I believe that you could incorporate bits and pieces into any decor setting, don't you?